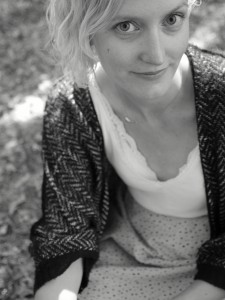 Linda Alexandersson, born 1984, is a Malmö-based composer, arranger, conductor and singer. She has a Master of Education degree from Malmö Academy of Music, where she specialized in composition.
Composition
At Malmö Academy of Music Linda studied composition with Daniel Hjorth, Staffan Storm and Sten Ingelf. Other inspiring people Linda studied with includes Kjartan Olafsson from Iceland Academy of the Arts in Reykjavik, Tobias Broström and Sven-David Sandström.
Lindas repertoire consists mostly of chamber music and choral music. She has composed for a wide variety of ensembles and is interested in works that combine different artistic expressions. She is often inspired by everyday sounds (the sound of scissors cutting, a bingo caller, sugar lumps being chewed etc.) – which often appear in her music.
Conducting
Besides composing, Linda is a choral conductor. At present she is the artistic leader of three different choirs and finds this practical work an inspiring complement to her work of composing. She often arranges music to suit the requests of her choirs and has written a great number of choral arrangements across many different genres, for different vocal settings. At Malmö Academy of Music Linda studied conducting with Cecilia Martin-Löf, Mats Paulson and Patrik Andersson.
The choirs she conducts are:
Korallerna – A young, successful female choir based in Lund. The choir was founded by Eva Svanholm Bohlin and has gained great success internationally.
http://www.facebook.com/Korallerna
Ostrochorus – A mixed student choir belonging to Östgöta Nation in Lund. The choir has high musical aspirations, but also focuses on being the most enjoyable choir in Lund.
http://www.ostrochorus.se
Alexanderkören – A boy's choir. Linda is one of the founders of this children's choir with exclusively young male singers. Today the choir belongs to Kulturskolan in Malmö.

Contact
Linda Alexandersson
Herrestadsgatan 9A
217 49 Malmö
SWEDEN
+46(0)736-13 77 17
linda.marie.alexandersson@gmail.com